Posted on May 6th, 2016 by Rachel Rollins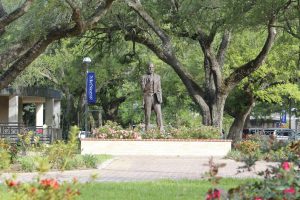 Missed out on our McNeese State hangout? No problem! Here you can find a brief overview of the different science programs and career opportunities MSU offers. MSU also offers incredible scholarship opportunities for their international students. You will learn all about this and more, right here!
McNeese State University is located in Lake Charles, Louisiana near the Gulf of Mexico. Its medium size campus is friendly, safe, and offers a variety of cultures unlike anywhere else in the US. MSU has smaller class sizes which allows you to better engage with teachers, advisers and students! You will definitely benefit from MSU's school motto "excellence with a personal touch!"
During the hangout, Professor Dr. Mark Merchant discusses MSU's Chemistry programs, which are: chemistry, forensic, pre-med, chem-management, chem-education, Bio-chem, and Pre-Pharm. Dr. Merchants goes into detail of each program and what career opportunities students can expect to gain after receiving a degree in any of these programs! Many of his students advance towards their master's degree or become active in lab research with MSU faculty!
Dr. Jennifer Bushnell discusses what it is like to be a Medical Laboratory Scientist. A Medical Laboratory Scientist performs a full range of laboratory test and works carefully to determine the medical treatment a patient receives from his/hers physician. There are a variety of different laboratory sections you can choose from such as blood bank, chemistry, immunology and microbiology. Dr.Bushnell discusses what each lab is and what her students like best about it!
Students that choose to be a Medical Laboratory Scientist can expect three years in class and an out-of-class internship their senior year, that could turn into a job! Many of Dr. Bushnell's international students receive job opportunities after graduating from her program. In fact, 100% of her graduates receive a job offer two months after graduating! Once you have completed your degree, MSU's Medical Laboratory Science program helps you receive your medical license and helps you complete your National Certification test to ensure you get a job! MSU's STEM extension program allows its international students to stay in the US on OPT up to 27 months after graduation without changing to a work visa!
MSU wants to see you succeed! Its International Student Department helps international students, like you, receive an internship that applies to your major. Their advisors make sure that you have all the paperwork and authorization to make sure you make the most of your studies at MSU.
Start your degree at McNeese State University today!
One Response to "McNeese State University Hangout; Learn About Science Degrees with Real Career Opportunities!"
Trisha Says:
December 20th, 2016 at 7:45 pm

Super excetid to see more of this kind of stuff online.
Leave a Reply