Posted on February 2nd, 2016 by Bryanna Davis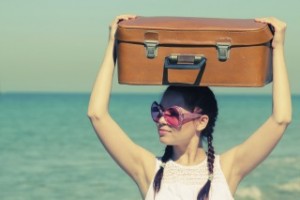 If you plan on studying in the US there are a few items that are more obvious than others when it comes to what you need to bring with you. For example, you more than likely already know you need to bring your passport, your luggage and an alternative photo ID. However, there are a few other items that aren't quite as obvious, but that you'll be glad you brought with you.
Your Health Insurance Documents
Medical costs inside the US are expensive, not having health insurance can lead to you having to pay hundreds of thousands of dollars toward medical bills. Because of this it's important to purchase a health insurance plan that will start as soon as you leave your home country. Additionally, your school might have specific insurance requirements you need to meet. Before you buy your plan confirm with your international student advisor if you need to buy a specific plan or if you can choose any plan that you would like.
Immunization Records
Many colleges and universities will have certain requirements around what type of immunizations you need to have. If you've already received the immunizations they require make sure you bring documentation of this with you.
An External Hard Drive
Traveling can be rough on a laptop and the last thing you want is for all of your important e-documents to be lost. Also, you will be taking hundreds of photos during your studies and this can slow down the machine where they're stored. Bring an external hard drive along to make sure you not only have a backup of the important documents and memories you want to keep, but to also keep your phone and laptop running as fast as possible.
Hand-written Emergency Contact List
Don't make the mistake of skipping this one! If you enter each of your emergency contacts (or all contacts for that matter) into your cell phone and then lose or break your phone- you'll wish you had an old-fashioned paper list as a backup. Take a few moments to write down phone numbers of family members, your banks, credit card companies, insurance company and international student advisor.
An Open Communication with your Bank
If your bank and credit card companies are tracking your spending as they should be during your travels, they'll receive a lot of red flags that might trigger them to freeze your accounts. Before you're stuck in an airport without access to your funds, make sure you notify your bank of your trip. Get as specific as possible regarding when you're traveling and to which countries- don't forget to mention any layovers.
2 Responses to "5 Surprising Items You Need When Studying in the US"
5 Surprising Items You Need When Studying in the US | Sohail Khan's Blog Says:
February 2nd, 2016 at 9:10 am

[…] post 5 Surprising Items You Need When Studying in the US appeared first on The International Student […]

Ruth Kinloch Says:
May 31st, 2016 at 6:57 pm

Traveling can be definitely rough, especially for young people. You are absolutely right – hand-written emergency contact list is "must-have" for every traveler. Also, when it comes to studying abroad, an external hard drive is another necessary thing. Unfortunately, not everybody foresees it.
Leave a Reply