Posted on January 25th, 2016 by Bryanna Davis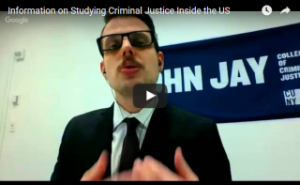 If you missed our hangout last week and you want details on studying criminal justice inside the US- you missed a lot! Colin Wiggins, international admissions specialist from CUNY-John Jay College of Criminal Justice joined the hangout to bring special inside information on not only what to expect from pursuing a degree in criminal justice and how to start that pursuit, but he also provided details on how to attend John Jay College of Criminal Justice- including the application process!
Colin has more than a decade of experience within the international education industry and was able to provide in-depth information on studying criminal justice in the US. Colin also answered numerous questions from international students like you. Here's just a couple of great questions that Colin answered during the hangout:
-"In which year of the 4 undergraduate years do I decide on my major?"
-"How can I enroll as a foreign student at John Jay College of Criminal Justice?"
If you would like the answer to these questions, and the other imperative information that was covered during the hangout you can watch the video here.
Colin is also our January guest advisor of the month. If you didn't have the chance to ask Colin your questions during the hangout you still have time to ask! Simply log into your Facebook account, visit his January guest advisor page and ask your questions!
No Responses to "Details on Studying Criminal Justice Inside the US"
Leave a Reply