Posted on June 8th, 2015 by Bryanna Davis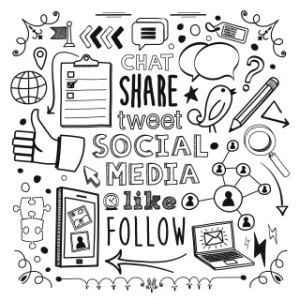 Companies have caught on to the notion that most college students may not be professionals in a particular field just yet, but they might as well be professionals when it comes to networking through social media. With their tech-savvy skills and generational experience, college students and recent college graduates have been helping to promote, advertise and network for companies and agencies across the globe, thus emerging new careers in social media. The most popular social media channels are Facebook, Google+, Instagram, LinkedIn, Pinterest, Tumblr, and Twitter, and international students hoping to become hired in a social media position should know how to navigate the preceding social media platforms in order to properly communicate with the company's customers or audience.
A few common social media positions include social media strategists, social media managers, community managers, content planner, social media developer, social media marketer, graphic/online designer, blogger, online video producer, and public relations specialists. Careers in social media may require responsibilities such as developing social media strategies, promoting content or social news, managing online reputation, optimizing social media linking strategies and establishing social media profiles. Some colleges and universities are now offering degrees in social media- classes such as professional social networking and writing for social media can help students learn how to use social media for professional use.
Social media positions are expected to continue to increase in the upcoming years. Because of the rapidly growing careers in social media, other careers in communication may also require social media skills. Current careers in public relations, journalism and advertising may also require the applicant to have some social media background- many journalists have even started  to tweet news alerts prior to writing an article. Even if you are not planning on having a career in social media, learning the basic skills will help you in any communication career.
If you constantly find yourself tweeting, posting, blogging, updating, photographing, and pinning, you may want to consider a career in social media. With media convergence and the digital age, it has become a more efficient and economic choice for businesses to promote, communicate and network via social media.
No Responses to "Emerging Careers in Social Media"
Leave a Reply