Posted on March 2nd, 2015 by Jenny Frankel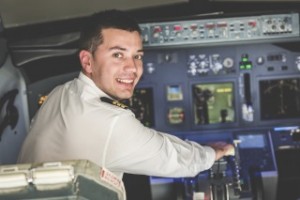 Being a pilot is hard work. As an international student studying aviation it is good to know the types of programs available so that you know where to study aviation and what certifications and degrees are required.
More and more pilots are being required to have two or four year degrees in an aviation related program. However, studying aviation as a pilot doesn't just end there. Pilots must also have a commercial pilot's license with an instrument rating, a medical certificate, where the pilot must have 20/20 vision with or without glasses or contacts, and certification to fly the types of aircraft that their employer operates.
There are several different types of pilot certificates- one is a student, which all pilots start off as. As a student, you fly with an instructor during training, reaching for the final test when you fly solo, meaning without an instructor. After you've passed the solo test, you can then go for another certificate.
One type of certificate after a student certificate is the private pilot certificate, which almost all pilots earn. There is more freedom with a pilot certificate and it can be easily upgraded.
With less work and money than a private certificate, a recreational certificate is available. Although many people choose to get this certificate, in the end, many more choose to upgrade to a private pilot certificate. The recreational certificate is for those who usually have one or no passengers and fly close to their home airports.
Introduced in 2004, the sport pilot certificate has gained popularity. Sport pilots fly smaller and lighter airplanes known as light sport aircrafts which only have one or two seat planes. If you're interested in obtaining a sport pilot certificate, keep in mind that not every flight school will have a light sport aircraft available because of their newness.
Being in the aviation field is a lot of work. Along with obtaining a traditional degree, international students will need to earn an additional certificate. There are many different types of pilot certificates and through careful research, one must be selected.
2 Responses to "Study to Become a Pilot"
Bimal Bashyal Says:
May 15th, 2018 at 10:30 pm

I want to study pilot in your institude with full of schoolarship

mohamed yasar ali Says:
May 25th, 2018 at 5:16 am

i want to take up pilot course in your institution
Leave a Reply