Posted on November 8th, 2014 by Jenny Frankel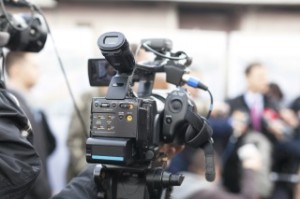 With a massive Beverly Hills campus and a student population over 40,000, the University of California – Los Angeles is one of the more visible schools on the entire West Coast. But the campus and student body aren't the only big things about it – UCLA's broadcasting program gets a lot of respect as one of the top broadcasting schools in the region, too. Here's what you need to know to study broadcasting at UCLA.
One of the first things to know if you study broadcasting at UCLA is that there is no proper broadcasting school or major. Rather, the school gets its broadcasting credibility by virtue of two excellent programs related to the subject: the College of Letters and Science's communication studies program and the School of Theater, Film, and Television's film and television program. Both programs begin in a student's junior year, making UCLA an excellent choice for students who want to start at a community college and transfer in after knocking down some credits.
The film and television degree in UCLA's elite film school is the best choice for students looking for positions on the technical side of broadcasting. Since the BA in film and television covers the entire span of those mediums, students get to pick from concentrations like Digital Media and Cinema & Media Studies to further focus their studies during their senior year. Throughout this major, aspiring broadcasters can obtain experience with broadcasting relevant skills like editing, sound recording, and camera operation. Just be aware that there are plenty of film-oriented classes less relevant to broadcasting. But hey, a little diversification can be fun!
Meanwhile, students looking into on-camera, writing, or producing jobs will want to study broadcasting at UCLA by majoring in communications studies, which at UCLA is one of the most highly-regarded communications programs in the country. Like the film and television degree, the communications studies major is very general, so students will have to choose classes wisely to focus their education towards broadcasting. Along with this major, students wishing to take full advantage of UCLA's ample broadcasting offerings could minor in Film, Television, and Digital Media and fill out their knowledge of the subject.
Although it lacks a more straightforward broadcasting program, UCLA's communications and film programs provide more than enough clout to get students on their feet in the big world of broadcasting.
No Responses to "Study Broadcasting at UCLA"
Leave a Reply