Posted on November 2nd, 2014 by Bryanna Davis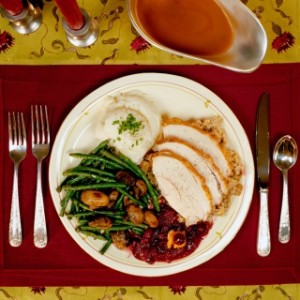 If all you know about American Thanksgiving is that you have a few days off from classes- then you will most definitely want to learn more and get the answer to what is American Thanksgiving. After all, Thanksgiving is a great way to experience American tradition- so you don't want to miss out!
First, what is American Thanksgiving?
The First Thanksgiving dates back to November 1621- Pilgrims and Wampanoag Indians gathered together for a three day autumn harvest festival. Thanksgiving is now only celebrated on one day, and the menu has changed quite a bit since that first gathering. The more traditional menu consisted of Venison, shellfish, pumpkin, lobster, duck and corn, but keep on reading to see what you can expect at the more modern celebration of American Thanksgiving.
How to Celebrate
So what can you expect from Thanksgiving this year? If you're joining the family of one of your US friends for this holiday you can expect to eat…a lot. Thanksgiving is a feast on the last Thursday in November each year with a menu that includes turkey, stuffing, cranberry sauce, green bean casserole, potatoes, bread, and a plethora of desserts including pumpkin and pecan pie. In fact, so much turkey is consumed at Thanksgiving that nearly 46 million turkeys are eaten. Family and friends gather together on Thanksgiving and typically each bring a dish. Although it's common for the host to prepare the turkey- offering to assist in the process is not only polite, but can be a great learning experience. If you want to prepare and bring a traditional Thanksgiving dish you can find a few recipe ideas here.
While waiting for everyone to arrive and the food to finish cooking, you can expect to watch a Thanksgiving parade or football game. A common tradition that many families in the United States practice during Thanksgiving is giving everyone in attendance the chance to say what they are thankful for. Whether it's family, friends or your opportunity to be an international student- make sure you think ahead about what you will announce that you're thankful for.
If you want to get more information on American culture, including holidays, you can visit here.
One Response to "What is American Thanksgiving?"
Leave a Reply