Posted on October 20th, 2014 by Jenny Frankel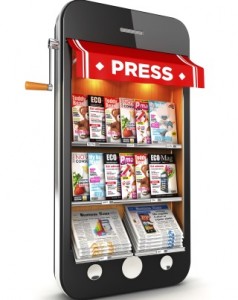 As an international student in a new country, it's a smart idea to realize exactly what you're reading when you get your news. Certain publications are perceived as having a political bias of one way or another- no matter what country you're in.
However, journalism schools past and present have taught their students that a journalist is, above all things, unbiased. The answer to "what is journalism?" is a journalist who reports the news accurately, giving a voice to both sides of the story and lets the public develop their own opinion.
Not having a political bias in the US media is great in theory, but in practice that's not always the case. Oftentimes newspapers are found guilty by the public or by their critics as having a particular political bias. This is when the media promotes stories that support their political views, downplay the importance of the opposing side's issues, or highlight the problems of opposing policies. Here are are the two most common political parties that a bias might be slanted towards.
LIBERAL
Liberal bias in the United States deals with publications favoring the policies of the Democratic Party. Famous Democrats are current President Barack Obama, Vice President Joe Biden, Hillary and Bill Clinton, and essentially any Kennedy that has run for office.
Liberal bias in the media is the idea that the majority of newspapers, magazines, and broadcast television stations publish stories that favor Democrats and Democratic policies like tax breaks for the middle class and environmental issues. A few of the news outlets deemed liberal are television stations CBS and CNN, and influential newspaper The New York Times.
CONSERVATIVE
On the contrary, media outlets that favor Republican ideologies, such as pro-gun, pro-big business, and tax breaks for the wealthy are considered to have a conservative bias. Well-known Republicans include previous presidential and vice-presidential nominees John McCain and Sarah Palin, former 2012 Presidential nominee Mitt Romney, and former-Presidents George W. Bush and his father.
Publications often mentioned when discussing conservative bias include television channel FOX News and newspapers The Wall Street Journal and The Washington Times.
In addition, talk radio is renowned for having a major conservative bias. Personalities such as Rush Limbaugh and Sean Hannity are very verbal about their Republican ideologies and are listened to by millions of people every week.
It's always good to get your news from various sources and to keep any news bias from your source. Knowing this will help you know which sources to get your news to form a well-rounded opinion of your own.
If you want to study journalism in the US as an international student you can learn more here.
No Responses to "Political Bias in the US Media"
Leave a Reply