Posted on October 8th, 2014 by Bryanna Davis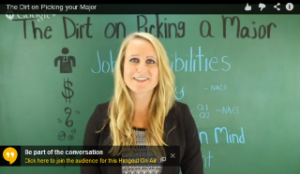 This is the second half of the two part series on how to choose a major as an international student. If you missed the first half, there I discussed the first two items you must take into consideration when choosing your major. The first one is job possibilities-  what jobs will you have available to you once you graduate. The second item you will want to consider is salary, how much will you get paid in the profession of your choice. If you missed part one, you can read it here.
3. Hiring Rate
In part two of  how to choose a major as an international student we will start by looking at the third item on the list: hiring rate. Once you know what type of jobs you can obtain with the type of degree you want to pursue and you've checked out the salary for those positions- you will want to ensure that those industries are hiring. A good place to start is with the list of the 2014 top-hiring industries from National Association of Colleges and Employers (NACE):
1. Educational Services
2. Professional, Scientific and Tech
3. Healthcare and Social Assistance
4. Government
5. Finance and Insurance
This list shouldn't be your final determining factor in which industry to pursue, and keep in mind that it can change, but it's a good place to start.
Along with researching if the industry that you're interested in is hiring, you will also want to look into where they're hiring. For example, if the profession you're interested in is only hiring in California but you would like to return to your home country- you will need to either reconsider your major or where you would like to live after graduation.
4. Keep Change in Mind
As businesses withstand the test of time- they learn how to evolve for survival. While researching the industry of your choice you will want to also make a point to research how the industry has changed, and any projected change to come. Understand the direction that the industry is heading and make sure it's the direction you would like to go.
One prime example of an evolving industry is the world of journalism. Those who graduated with a degree in journalism 25 years ago often found a job at a print newspaper or magazine. Currently, those who graduate with a degree in journalism might still find a job at a newspaper or magazine, but more than likely work for their online sector.
5. Enjoyment
Yes, we all need a job to pay the bills- but your career can also bring a lot of joy and fulfillment to your life if you choose wisely. If you do well in your classes and enjoy your pursuit- it's a good indicator that it's the right career path for you. If you pursue an industry that doesn't come natural to you it will leave you with the risk of burning out after a few years in your career and heading back to school for a career change.
If you missed the live hangout, watch the video on how to find the best major for you here. If you need to find a school that has the degree program you're interested in, visit our school search here.
2 Responses to "How to Choose a Major as an International Student- Part 2"
Abdu Beshir Ahmed Says:
October 26th, 2014 at 9:22 am

Dear Sir,

Thank you for your reading to my email, I am pleased to inform you that about my personal data are as following:

1- I am 50 years old I am willing to study Diploma in accounting?
2- I did not completed my high school due to civil war on the 1980 since that time I gained a lot of tasks and responsibilities such bookkeeping / Clerk Secretarial / Human Resources Assistant Manager.
3- I am living in Saudi Arabia since 1980 working up to now?,
4- I would like to come over there for studying diploma in accounting?

Best regards
Abdu beshir

Bryanna Davis Says:
November 24th, 2014 at 4:05 pm

Hi Abdu,

Thanks for visiting. Your age should not be a problem when going through the process. However, you will need to first find a school to attend, apply to the school, then complete the visa process. Good luck!
Leave a Reply