Posted on October 4th, 2014 by Bryanna Davis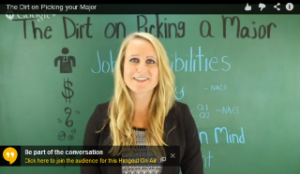 Some international students go abroad knowing exactly what they want to study- and might even choose their school based upon the degree program they're after. However, choosing your major is a huge decision and because of this not every international student will have an answer to the inevitable question they will be asked numerous times: "what's your major?"
Because of this, I held a live hangout devoted to giving you information on how to choose a major. There, I exposed five items that you need to consider before declaring your major. However, there is not a cut and dry formula that will automatically populate the best major for you. You will need to take these key factors and use them to help you make a decision.
If you missed the hangout you can still watch it here. Or, you can read on to get all of the information that was discussed during the live hangout, plus a bit more. Since it's a very important topic, and there is a lot of information to digest, it will be broken into a two part series. This is the first of two- make sure you don't miss the second part!
1. Job Possibilities
First and foremost, don't lose sight on why you're paying thousands of dollars for your education- it's so you can eventually earn those thousands of dollars back, plus some (hopefully a lot). Although going to college, especially in a different country, will give you great insight both into yourself and on the world, it's still second to the fact that at some point in your life you will need to be able to support yourself.
Before you try to think of the easiest degree possible so you can "live it up" in college or the most difficult one so you can impress friends and family- think about the future repercussions that will have. Think beyond the next four or five years of your life and into your career- this means make sure you know what jobs you will be able to get with the degree you're pursuing and ensure that you're OK with having that job.
2. Salary
With your job comes a tangible reward: your salary. Although any amount of income might seem better at this moment since a college student's bank account doesn't stretch very far- that thought won't last very long. Before you know it you might want to get married (expensive), buy a house (really expensive), and have a few kids (extremely expensive). What you once thought sounded like a good income doesn't stretch quite as far.
Take a look at the average salary within the industry that you want to pursue, in the area that you want to live. From there, check out the cost of the living in the area that you want to live along with how much you will need to borrow to fund your education. Will you be able to realistically pay back your student loans for the degree you want to obtain? If not, you will want to consider either choosing a school that costs less or picking a major that has a higher salary.
Also, keep in mind that not all degrees will have the same costs associated with them. The example used in the hangout was in regards to aviation. Pursuing an aviation degree will have a higher cost than someone pursuing another degree such as journalism- aviation majors need to log a certain number of flight hours before they're able to become a pilot. This means that they must pay to rent the airplane during these hours, and that's not a cheap expense. If your degree has additional expenses make sure you're well equipped to handle those when it comes time to pay for your education, or to re-pay your loan.
If you have no idea what major you should pursue but know you want to find a job that will pay well, according to National Association of Colleges and Employers here are the top paying industries that were hiring in 2014:
1. Engineering – $62,891
2. Computer Science- $62,103
3. Business- $57,229
4. Communications- $48,253
5. Math and Science- $44,299
6. Education- $40,267
7. Humanities- $38,049
Looking at the job possibilities and salary is only the start when figuring out how to choose a major as an international student. Don't miss the second part to this series- you will need the tips and stats included. You can ensure you receive the second part by subscribing to our feed here.
4 Responses to "How to Choose a Major as an International Student Part 1"
Leave a Reply