Posted on September 12th, 2014 by Bryanna Davis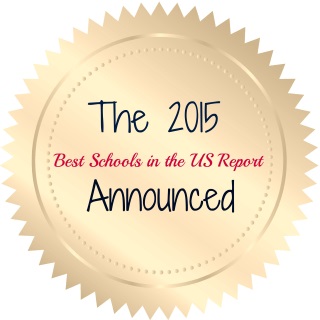 If you're on the hunt to find the best US school for you, you have more than likely seen our "featured school" list. This list is an all-star team of affordable colleges and universities that we highlight for good reason: they are a great place to start your school search! Want a second opinion? The 2015 best schools in the US report by U.S. News & World was just released and almost half of our featured schools made a "Best" list in at least one area! Each year for 30 years the U.S. News & World Report has released their list of the best colleges in the US to help students narrow down which school they want to attend.
We've summarize this report for you and looked at our ranked featured schools in these five key categories: Best National Universities, Best National Liberal Arts Colleges, Best Regional Universities, Best Regional Colleges and Best Online Programs. Take a look at how a few of our featured schools ranked in these respective categories:
National University Rankings:
Miami University- Oxford tied for #76 in the overall National University ranking. Miami University-Oxford also ranked #30 for top public schools, took the #2 spot for best undergraduate teaching and #29 for best undergraduate engineering programs! Other top ranking graduate programs include fine arts, history, English, speech-language pathology, business and best education school.
The University of Kentucky ranked as #129 overall in the National University category along with being named #62 for having the best undergraduate business program, #63 for top public schools and #64 for best education schools (graduate school), other high-ranking graduate programs include engineering, economics, business, law and medical.
Mississippi State University ranked #156 in this category overall, as #84 when it comes to being a top public school, #90 for best engineering schools in the graduate school ranking- including a #23 ranking for best biological/agricultural engineering program. Other notably high-ranking graduate programs include public affairs, veterinary medicine, rehabilitation counseling and psychology.
Florida Institute of Technology tied for the #173 spot in the Best National University category. They were also ranked in the #48 spot for having the best online bachelor's program! Other high-ranking programs include the online graduate business program and the undergraduate engineering program.
National Liberal Arts Colleges:
Hiram College ranked as #148 in the category of Best National Liberal Arts Colleges. This category includes schools that emphasize undergraduate education and have a high concentration of individuals pursuing a liberal arts degree. Hiram College also ranked well when it comes to national liberal arts colleges that high school guidance counselors recommend.
Regional Universities:
McNeese State University ranked #87 in the best Regional University south ranking category. It also ranked as the #42 top public school overall.
Rochester Institute of Technology ranked #8 in the best Regional University North rankings along with being named the #5 best value school! Other high-ranking programs include fine arts, physics and physician assistant graduate programs.
Slippery Rock University of Pennsylvania ranked #83 in the best Regional University North rankings along with be the #24 Top Public Schools spot.
State University of New York – Brockport placed in the best Regional University North rankings in the #60 spot. It was also named as the #15 overall top public school.
While rankings should not be the only determining point when choosing your college or university, it's a good place to start to compare schools that fall within your budget. U.S. News states that a benefit to the report is that it will "allow you to compare at a glance the relative quality of institutions based on such widely accepted indicators of excellence as freshman retention and graduation rates and the strength of the faculty. And as you check out the data for colleges already on your short list, you may discover unfamiliar schools with similar metrics, and thus broaden your options."
To get more information on schools in the US, use our USA School Search tool and don't forget to visit our featured school list!
To view all of the schools that ranked in the 2015 US News and World Best Colleges report you can visit here.
One Response to "The 2015 Best Schools in the US Report Announced"
Joe D. Lawrence Says:
September 18th, 2014 at 10:13 am

It is difficult to Judge the quality Of study without learning at that particular institution. Hearing from your resources that this particular Institution is best and you have to go there for your studies is quite difficult just because that it might be possible that this particular institution is not in your range according to there fees and there expenses.
So first of all decide that Institution which would be in your range otherwise the Quality of study does not matter because it just upon you that you want to learn something or not.
Leave a Reply