Posted on July 26th, 2014 by Bryanna Davis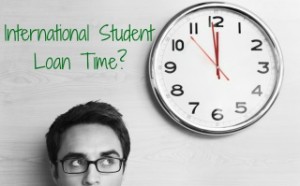 Let's be honest- getting an international education is not cheap. In fact, one of the biggest questions that we hear from students like you is where to search for financial aid. While it's always best to start with scholarships, scholarships can rarely fund an entire education. This means that international student loans are then necessary to fill in the remaining education costs. Using an international student loan is a commitment and you don't want to rush the decision making process.
Knowing whether you need an international student loan or not should be established early in the process of making your international education happen. It's recommended that you apply for a loan 6 weeks prior to when you need the funds. However, keep in mind that there is work to be done before you even apply for a loan. Because of this, right after you've been accepted into the school of your choice, and you know how much you need to borrow, you will want to dive right in. Here are a few items that you will want to consider when you make the plunge:
-Find a co-signer. If you are not a US citizen or resident, most international student loans will require you to have a co-signer. If you don't have one you need to spend time finding one. Keep in mind that your co-signer must meet these requirements:
Be a US citizen or resident
Have lived in the US for the past two years
Has good credit
-Find a lender. Not every lender works with every school, and not every lender works with international students. This means that you will have to search for a lender who can meet your specific situation. Using a loan finder tool is a quick and convenient option, so it's a good place to start.
-Compare your options. Once you find a lender that will work with your school and with you as an international student, you will more than likely be ecstatic. However, you must contain your excitement and not agree to a loan through the first available lender you find. Keep in mind that you must pay back your loan along with any interest that you've accrued- because of this, it's important to find the terms and conditions of each lender that is under consideration, then compare! Here are two items that you won't want to overlook:
Interest rate: Essentially, the interest rate is the cost to borrow the funds you need. The interest rate is an additional percentage that is added on to the total amount you borrowed. When comparing loans keep in mind that the lower the interest rate- the less you pay.
Repayment: You must repay all loans, find out how long you have to start making payments (will you have to start paying while still in school, or after you graduate?) and how long the repayment period be. The longer the repayment period, the smaller the payments will be, however- a long repayment period means more interest will be accrued (meaning more you have to pay).
Give yourself time to find a co-signer, find lenders and compare their terms, along with the 6 weeks needed to process your loan application and you will be in good shape when it comes to getting the financial aid you need for your international education.
4 Responses to "International Student Loans: When to Apply and What you Need"
Leave a Reply