Posted on July 21st, 2014 by Bryanna Davis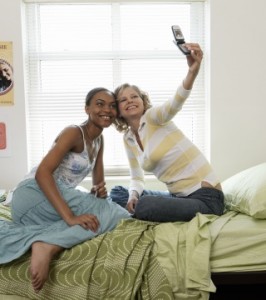 College can easily be four of the most fun years of your life- especially if you choose to become an international student. Between living on your own for the first time to unforgettable late nights on the town, time flies faster than you can even imagine. Of course, education should be your main focus while in college, but who says you can't make some memories along the way?
1. Pimp your dorm – Even though you'll probably have to share your space, make it as fun as possible! Hang posters, rearrange the furniture, and proudly showcase that bottle cap collection you've worked on for years – or anything that makes you, you.
2. Stock up on the free stuff – College students rarely live off of ramen noodles because they are delicious (that's just a bonus); we do it because we're broke. So take this in stride and fill your empty pockets with free T-shirts and pencils when you can. Colleges provide free stuff because they want students to attend events, so you might as well take a second slice of pizza while you're there, right?
3. Make friends – While this may be common sense, friends can make or break your entire college experience. Unlike the cliques of high school, college is a clean canvas and you get to hold the paintbrush, so surround yourself with quality, like-minded people who will help you make great memories!
4. Enjoy homecoming – Even if you hate sports, are allergic to body paint, and crowds aren't your thing, homecoming is a college "rite of passage" in the US and therefore a very fun requirement. Keep in mind that it's usually a week-long extravaganza and even if you don't don your school colors from head to foot, at least join in some of the festivities.
5. Hang with the "cool kids" – Instead of holding down the couch for the third night in a row, go wherever your classmates are going. Oftentimes, students will all go to "taco Tuesdays," "trivia Thursdays," or "karaoke Mondays," and sometimes just being with the crowd is enough to make new friends and really feel included on campus.
6. Join a club, or five – Believe it or not, larger schools can have hundreds of clubs on campus, making it possible to find your perfect clique without really trying. What interests you? Surfing, chess, farming, squirrels, sky-diving, people watching, shopping, golfing? These are just a few of the many clubs that your school may offer and keep in mind, if you don't find one you love – start your own! Starting a club on campus is an exceptionally easy process that will look great on your resume later (depending on the subject, of course).
7. Take a class you don't need – colleges require so many classes that it's only fair to throw in a few awesome electives, right? So what if you never need to know "the history of Disney princesses" or "underwater basket weaving 101." That's the beauty of these classes, they attract some of the most fun students on campus, and are guaranteed to be the most memorable classes of your college career.
8. Enjoy your roommate – In a perfect world, we would all become best friends with our college roommate and never fight about whose turn it is to take out the trash. While this rarely happens, sharing a dorm can be a lot of fun and truly enhance your college experience, so take advantage of your roommate while they're around. Invest in two pairs of dark sunglasses and think of this person as your partner in crime, after all, you do live together.
9. Land a killer internship – While your education should be the main focus in college, learning outside of the classroom is often more fun. Do the legwork and land a well-respected internship that will offer major padding on your resume later.
10. Treat your favorite professor – Never forget that some of the most interesting and smartest people on campus are the ones grading your papers. If you're curious about a specific subject, or a teacher in general, offer up a cup of coffee and conversation – they will rarely turn it down.
2 Responses to "10 College Memories You Can't Afford To Miss"
10 College Memories You Can't Afford To MissIMPakistani.netIMPakistani.net Says:
July 21st, 2014 at 8:30 pm

[…] post 10 College Memories You Can't Afford To Miss appeared first on The International Student […]

Sherrow Says:
July 22nd, 2014 at 8:52 pm

I used to be suggested this website through our relative. I'm no more convinced whether or not it publish can be created via your ex seeing that no one realize these kinds of detailed about our dilemma. That you are extraordinary! Thanks!
Leave a Reply