Posted on June 26th, 2014 by Bryanna Davis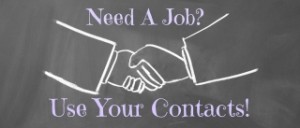 This Friday we are hosting a Hangout On Air to help you learn how to use your contacts to get a job. When competing against hundreds, sometimes thousands of other applicants, finding a job is not always easy as a new international student graduate. Even with a stand-out resume that boasts your study abroad experience, your excellent GPA and your relevant internships- sometimes it's still not enough. This is when knowing who you know (your contacts) is helpful.
International students and past international students who attend the hangout will be able to walk away knowing:
What contacts to get in touch with
How to get in touch with those contacts
Best practices when using contacts
Having great contacts can help you land your dream job, but it's important to use your contacts in an appropriate manner. Those who hangout with us live can send in any questions during the hangout about using contacts to find a job. Questions will be answered at the end of the hangout!
Hangout with us Friday June 27th at 11am EST!
If you can't hangout with us Friday you can still get the information you need. Visit either our Google+ or YouTube page and get tips on how you might be able to find a job just by making a few phones to those you already know.
No Responses to "Need a Job? Hangout With Us Friday!"
Leave a Reply