Posted on June 25th, 2014 by Bryanna Davis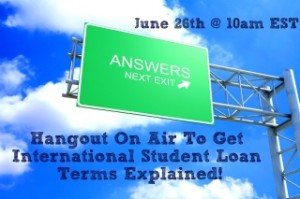 Being an international student is a once in a life time opportunity. However, it's an opportunity the also comes attached to a high price tag. Many international students seek financial aid by first turning to scholarships, then international student loans to help fund their studies abroad. Because of this, tomorrow International Student Loan is hosting a Hangout On Air that will give you all of the information you've been looking for when it comes to student loan terms. Trying to understand how to get an international student loan, or even where to search for an international student loan is not an easy task. Combine that with all of the loan jargon like co-signer, interest rate and credit score and it makes it even more difficult to navigate your way through the loan world.
If you're looking for an international student loan, make sure you don't miss the Student Loan Terms Explained Hangout On Air. You can attend the hangout Thursday, June 26th at 10:00am to gain clarity on loan terms from Jennifer Frankel, the International Student Loan Financial Aid Director. If you watch the hangout live you will also have the chance to send in any questions about international student loans and loan terms. This means you will get your questions answered right away!
Hangout and get student loan terms explained by visiting the hangout page here June 26th at 10am EST.
2 Responses to "Hangout And Get Student Loan Terms Explained"
amaterji Says:
November 17th, 2014 at 10:44 am

It's going to be end of mine day, except before ending I am reading this wonderful post to increase my knowledge.

Bryanna Davis Says:
November 24th, 2014 at 4:08 pm

Hi Amaterji,

We hope it helped! Keep in mind you can follow the link and watch the video to the hangout. Good luck!
Leave a Reply