Posted on June 23rd, 2014 by Bryanna Davis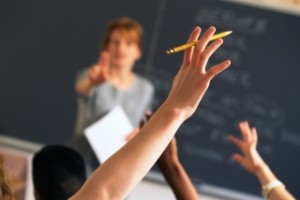 The Fastest Growing Jobs for Education Majors
You're about to graduate with an education degree and you feel a bit apprehensive with the post-grad job search. With budget cuts prevalent in public school systems around the US, some education majors are thinking twice about their decision to pursue careers in education. But if you have a passion for the field and the skills to secure it, there are still options for international students studying education. The fastest growing jobs for education majors are expanding, and depending on where in the US you decide to look for a career, an education degree can be a stable decision. These are three of the fastest growing jobs for education majors that will help ease the anxiety of the post-grad job search, according to the US Bureau of Labor Statistics:
Preschool Teacher
Job growth for preschool teachers is expected to grow 25 percent, which is higher than the average growth rate for education careers. Preschool teachers prepare their students for kindergarten, planning curriculum, supervising the students and monitoring their social, emotional and academic development. International students who want to pursue a career in preschool teaching should have an early childhood education certification. An associate's or bachelor's degree may be required in some cases. Courses such as early childhood development, behavior management and child health can help prepare you for a career as a preschool teacher. Students should also develop skills such as patience, communication, encouragement, organization and discernment.
Health Educator
Health educators are in high demand within the education field. The expected growth for health educators is 37 percent and is projected to increase rapidly by 2020. As a health educator, you will teach students about wellness by developing programs, lessons and materials. These educators can work in schools, colleges, private businesses, public health departments, nonprofit organizations and more. International students interested in a career as a health educator should meet the certification and education requirements needed by the company they are applying for. Most positions will require a bachelor's degree in health promotion or health education. During college, international students should consider courses such as community and public health, health promotion planning, cultural diversity in health and illness and more. Some careers as a health educator will only admit applicants who have obtained the Certified Health Education Specialists (CHES) certification.
Post-secondary Education Administrator
Like careers in health education, a job in post-secondary education administration is also expected to grow 37 percent. Post-secondary education administrators supervise school operations for colleges and universities. They may work at the college with a variety of departments such as student affairs, admissions or registrar. Responsibilities may include overseeing academic programs, organizing the distribution of informational materials, planning events, managing the budget and more. These jobs will usually require a master's degree or higher. Some graduate courses that could be beneficial are history of higher education, school administration, issues in higher education and more.
If the post-grad job search scares you, pursuing one of the fastest growing careers in education may help ease the stress and help you find a job quicker than you would have otherwise. International students planning to pursue one of the careers should ensure that they have the skills and passion for that career. The field of education is constantly shifting, and more career possibilities will arise in the future. Keeping track of the educational climate and sharpening your skills to accommodate it will help you keep careers in education and make a positive impact on the lives of students.
No Responses to "The Fastest Growing Jobs for Education Majors"
Leave a Reply