Posted on May 19th, 2014 by Bryanna Davis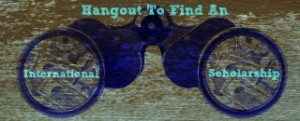 Earning a degree is not cheap! You more than likely already know you will need at least one scholarship to help finance your education- you probably also already know how difficult it is to find and apply for international scholarships. Because of this, we are hosting a Hangout On Air that is devoted to how to find an international scholarship.
This Friday, May 23rd at 11am EST you will have the chance to hangout out with us and get information on:
How to start the process of finding a scholarship
What to look for when searching for scholarships
What to do once you find a scholarship for which you want to apply
Other tips to help ensure you put forth your best effort to receive the scholarship you're after
You can join us during this hangout for free advice on how to win scholarships. Keep in mind that we will not be giving away scholarships, but we will be giving away great information on how to find and apply to a number of scholarships.
Follow these steps to hangout with us and learn how to find an international scholarship:
Tell us "yes" you will be watching
Bookmark the hangout page so you can easily return later
Return on May 23rd at 11am EST and hangout
If you have a few friends who are also in need of financial aid, make sure you pass this along so they can also be fully equipped with the information they need to win as many scholarships as possible.
One Response to "Hangout To See How To Find An International Scholarship"
latest iphone 4 game apps Says:
July 21st, 2014 at 3:02 am

Thanks for a marvelous posting! I really enjoyed reading it,
you're a great author.I will always bookmark your
blog and will come back down the road. I want to encourage
you continue your great job, have a nice evening!
Leave a Reply