Posted on April 26th, 2014 by Sutherland Beever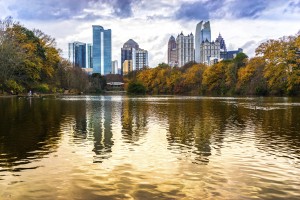 Close your eyes and picture endless red-clay hills, warm peaches ripening in the sun and well, CNN. Although a global news network may not seem to fit the Gone with The Wind images you imagine when thinking of Georgia, it is the 21st century after all and Georgia is no stranger to change.
After being burned to the ground by Union forces during the Civil War, Georgia's capital has re-emerged as a major city in the United States, helping the "Empire State of the South" live up to its nickname. If you decide to study in Georgia, here are a few things you will want to make sure you check out.
1)   Atlanta- Stopping in such a major city might be obvious advice, but the smorgasbord of attractions do demand attention: the Coca-Cola factory (and corporate headquarters), CNN, the Centennial Olympic Park, The Georgia Aquarium, Major League Baseball at Turner Field, a National Football League team, a National Basketball Association team and a Six Flags theme park, just to name a few, so we suggest bringing comfortable sneakers.
2)   Jimmy Carter Peanut- if folksy oddities are more up your alley, you'll want to stop by Plains, Georgia. After all, it is the only place in the world where you can see a thirteen-foot tall Styrofoam peanut grinning with likeness of President Jimmy Carter's smile. The peanut was erected to celebrate a political visit by the Georgian Carter in 1976 and no longer serves any technical purpose.  Of course, it would be the ideal place to have your picture taken to share will all of your friends back home.
3)   Savannah- with a history reaching back over 200 years, Savannah is still a key port city with a reputation for southern hospitality. Along with the now bare location of the famed bench from the film Forrest Gump, the city counts among its charms an eclectic mix of stunning architecture, southern fine-dining restaurants, cobble-stone alleys, nightly ghost tours and a top notch-museum of history.
4)   The Georgia Guidestones- in 1979 a stranger walked into a bank in Elberton, Georgia, purchased a piece of land and erected a 240,000 pound monument that would come to be known as America's Stonehenge. This bizarre landmark boasts five colossal granite slabs listing instructions for survival in a post-apocalyptic world in eight different languages. Pretty crazy huh?  Well, luckily for the public, the land's deed requires that access to the monument remain free so it won't cost you a penny see this rather large piece of history.
If you want to see what schools you can study at in Georgia, start your search here.
No Responses to "Study in Georgia!"
Leave a Reply