Posted on April 5th, 2014 by Bryanna Davis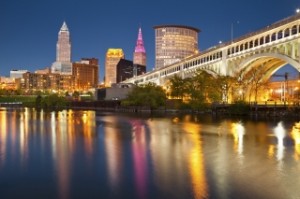 From the rubber capital of the world to the home of the first professional baseball team, Ohio has it all. If you are interested in winter, thrill rides, spring, agriculture, summer, sports, fall or all-American cuisine, you should contemplate studying abroad in (or at least visit) the buckeye state.
One of Ohio's greatest attractions is the Cedar Point amusement part, complete with over 150 rides, boardwalk games and interactive stage shows. If the scents of foreign foods peak your interest, this landmark boasts some of the state's greatest hot dogs- any way you like them (which happened to be invented in Ohio over 100 years ago).
If sports are more up your alley, check out the Pro Football Hall of Fame in Canton, Ohio. This museum is packed with famous jerseys, game balls and an in-depth history of American Football and the world's first openly professional baseball team: the Cincinnati Reds.
For all the music lovers, the Rock and Roll Hall of Fame in Cleveland, Ohio will hit the perfect pitch. If you're able to visit the Rock and Roll Hall of Fame, make sure you have plenty of time because it's easy to spend an entire day covering all 150,000 square feet and three levels of interactive exhibits, films, videos and artifacts revolving around the history of rock and roll.
As the first state with a traffic light, and the first place in the world to use police cars, Ohio has a rich history and remains the perfect place to start an adventure. Just remember that it's illegal to fish for whales on Sunday!
If you want to study in Ohio, check out what schools you could attend in Ohio!
No Responses to "Oh Ohio!"
Leave a Reply