Posted on October 24th, 2013 by Bryanna Davis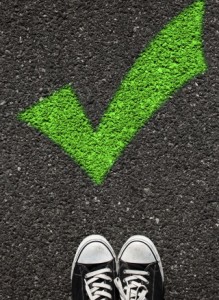 Let's be honest: even packing and preparing all the necessary things for a vacation abroad can be a trying task. Don't let that scare you off when the time comes to prepare for what you'll need to study abroad. By making sure you have adequate time to complete all imperative tasks, checking things off your study abroad checklist will be far easier and more manageable than you think.
Before anything else can happen, you have to apply to the program of your choice. After you've found out that you've been accepted, the first thing you need to do is make a list. Separate the items you've thought of into multiple lists, this will help you compartmentalize the things you need to get done before your departure date. In making a list and estimating the amount of time you'll need to tackle each bullet point, you'll be doing yourself a big favor in the long run.
There are certain things that will be taken care of for you through the program that you've been accepted into. Sometimes they include health insurance, and they typically include an on-campus dormitory or foreign exchange-style housing option with a local family. These are two major items that you can then cross off your study abroad checklist.
What will require the most time and effort is deciding what clothing, toiletries, medicines and other odds-and-ends to bring with you. Check what the weather is like during the time frame that you will be there. If you'll be in the country for a whole year, bring clothing that you can layer on and take off depending on the season. Clothes aside, it's important to look into what toiletries, including over-the-counter medicines you can buy once you arrive in the country you'll be studying abroad. There's no use wasting precious space in your suitcases.
One crucial step in the process is making sure you're healthy before you hop on the plane. Schedule a physical with your doctor to make sure all is in order before you go. If you take any prescription medication make sure you bring enough to last you the entire time you are studying abroad.
When it comes to financial matters, notifying your bank before you leave is essential to guaranteeing you won't have issues purchasing items or withdrawing money during your time abroad. If you plan to travel while you are in your host country, attempt to inform your bank or credit card company of those countries as well. You may not know ahead of time, but as long as you keep a record of the businesses' contact information, you will be able to let them know before you set off on a side trip.
Make a note of emergency contacts in each of the countries you will be visiting and have their information readily available. It's also a good idea to do a bit of research before you go to know where your country's nearest embassy or consulate is located, in the event of an emergency. By and large, it is far better to travel over-prepared and ready for any potential situation that could arise, than to leave unprepared and vulnerable to greater risk.
Set up a way to communicate with family and friends from home. There is a myriad of technology available to us that makes international phone calls and text messages a breeze – and budget-friendly. Calling cards and international phone plans are dated methods of communication that drain your bank account faster than you think. Instead, you can bring your laptop to send emails and make free video calls to other users on Skype. You can also make low-cost calls to cell phones and landlines across the world using the Skype application. Another great option is to buy a SIM card with a cheap data plan once in the foreign country. With that SIM card in your smartphone, you can download an application like Whatsapp (small one-time fee to download; $0.99 from U.S. Apple's iTunes), which allows you to send text messages to anyone anywhere in the world for free.
Don't let yourself get overwhelmed by the number of items you have to accomplish on your study abroad checklist. Keep in mind that you're doing all of these things to make sure that once you arrive wherever you're going, you won't have to worry about a thing. All you'll have to worry about once you step off the plane is making sure that you have a rich and rewarding experience during your time abroad.
You can find further information on preparing for a trip from the U.S. Department of State. If needed, you can first find more information on studying abroad here.
2 Responses to "Must-See Study Abroad Checklist"
Anonymous Says:
March 29th, 2016 at 1:32 pm

Quality content is the important to attract the viewers to pay a quick visit the web page, that's what this site is providing.

Anonymous Says:
March 31st, 2016 at 6:13 pm

Howdy would you mind stating which blog platform you're working with? I'm looking to start my own blog soon but I'm having a difficult time deciding between BlogEngine/Wordpress/B2evolution and Drupal. The reason I ask is because your layout seems different then most blogs and I'm looking for something completely unique. P.S My apologies for getting off-topic but I had to ask!
Leave a Reply