Posted on September 7th, 2013 by Bryanna Davis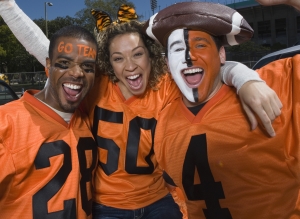 The new semester is here and one great way to connect with your school and peers as an international student is to join in on school spirit. School spirit comes in many different shapes and forms- it can be through joining clubs and organizations, or competing in intercollegiate academic competitions. However, one of the biggest ways that students who study inside the US show their school spirit is by supporting their college sports team. Each semester teams compete at their university, and they could use your support. Plus, this is a great way to get involved and meet new people as an international student!
Getting Tickets
University students have the great opportunity to get tickets to each one of the games in just about every athletic competition. These tickets usually are for a seat within the student section- arguably the most fun part of any stadium or arena. Student sections are loud and rowdy, and always cheer for the home team! Be sure to get in the line early to get the best seat you can, as most student sections do not have assigned seating and let students take whatever seat they want.
Play a Role
A lot of universities have a fan club that allow the most loyal fans to get together and cheer. These fan groups usually tailgate together, sit together at games, and celebrate after the big win. But be sure to take your fandom seriously- you can paint your face in the school colors, wear team attire, bring signs and cheer as loud as possible.
Considering Trying Out
Most university athletic teams are willing to take students as a walk-on to their team. If you have experience playing the sport, and believe that you would be a good fit on the team, then it may be for you. For international students that do not want to join the team, there are other university club and intramural teams that allow you to represent the school while having fun and live the US student life.
No Responses to "How You Can Show School Spirit"
Leave a Reply