Posted on August 22nd, 2013 by Jenny Frankel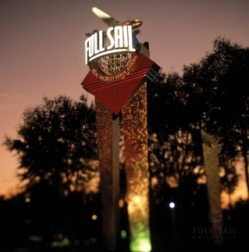 Full Sail University was founded in 1979 in Dayton, Ohio as Full Sail Recording Workshop. The school relocated to Winter Park, Florida the following year, changing its name to Full Sail University. The school quickly grew to include programs in film, design, show production, games, animation, web design. Since its founding, Full Sail University has built a reputation as one of the premier art, music, and film schools in the world, as well as one of the top schools for studying recording engineering.
Why Study At Full Sail University?
Full Sail's mission is "to provide students with an innovative style of education, delivered by a staff of dedicated individuals, that addresses the career opportunities available in an ever-growing, constantly evolving industry."
Getting Your Foot In The Door
Students who study at Full Sail University are interested in careers in music, concerts, film, video games, design, animation, or web development. Full Sail's campus boasts world-class studios and production spaces, and as a result, companies are often interested in producing projects on the school's campus.
Faculty at Full Sail
Teachers at Full Sail are veterans of the entertainment industry themselves and very often still work on professional projects, allowing them to impart to their students the techniques and tips learned from years of creating movies, music, games, and various other artistic endeavors.
Top Notch Degrees
Full Sail's degree programs are designed to reflect the real-world needs of the entertainment, media, and arts industry, while simultaneously encouraging students to explore their own creativity and artistic passion. Full Sail University offers master's, bachelor's, and associate's degrees at their campus in Florida.
Your Career After Full Sail
Students who study at Full Sail University go on to work on award-winning films and albums, acclaimed video games and design projects, live productions, and inside major media companies. In the last three years, students who study at Full Sail University have been hired by more than 3,000 companies that span the entertainment industry. Graduates from Full Sail University have gone on to work for ABC, Pixar, and Cirque du Soleil.
Interested in learning more on why you should study at Full Sail University? Learn more about how they can help you further your career!
2 Responses to "Why You Should Study at Full Sail University"
Zoea Says:
September 5th, 2013 at 8:05 am

Hi,

I would love to find out a little bit more about the scholarships you guys offer to international students.

Regards

Bryanna Lindblom Says:
September 5th, 2013 at 10:23 am

Hi Zoea,

Thank you for your inquiry. You can visit our scholarship database to learn more about available scholarships, including those at Full Sail University.

Good luck!
Leave a Reply