Posted on August 13th, 2013 by Bryanna Davis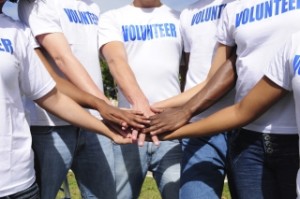 Since 1985 students from around the world have relied on CCI Greenheart to provide them with a one of a kind cultural exchange experience. This year, seven individuals were granted the opportunity to participate in CCI Greenheart's Summer Work and Travel program- for free! Through the newly established CCI Greenheart Ambassador Scholarship, these seven individuals who completed the program, showed leadership in their home country and documented their volunteering experience in the US through online blogging and video received full program reimbursement.
CCI Greenheart is a cultural exchange program that connects international students with Americans for a rare chance at a first-hand look at American culture.
"Every day it resonates that I am here on a mission to do better for the world," said Orville Tomlinson, an Ambassador Scholar from Jamaica. "Whether I am doing volunteering or working, being a cultural ambassador for CCI Greenheart is helping me to highlight more interesting facts about my country while I am also learning about some interesting facts about other countries and their culture!"
While experiencing a new culture, individuals who participate in the CCI Greenheart Work & Travel program acquire useful work and volunteer experience- while improving their English.
Erin Nyhan, CCI Greenheart's Work & Travel Services Director states, "Our Ambassador Scholarship embodies the higher purpose of the Work & Travel program. These self-initiating scholars will be immersed in American culture and will provide the channels for exploring the greater cultural experience in written and visual form from all across the United States. It is a rich opportunity that defines "soft diplomacy" at its best: real students immersed in traditional American communities for an amazing experience that will shape their lives and help open minds in all corners of the globe."
While the CCI Greenheart Ambassador Scholarship is now closed for this season's Summer Work & Travel participants, if you or someone you know may be interested in this scholarship, you can find more on this program and scholarship here.
2 Responses to "Students Experience the US Free with CCI Greenheart"
Micheal Banda Says:
August 15th, 2013 at 7:37 am

Dear sir/madam
Firstly I'm greeting the entire organization or institution or the board members in the name of Jesus Christ

INTRDUCTION

My names are Micheal Banda Zambian age 24 male based in South Africa.

VISION
In 2009 I started applying, asking for scholarship around the world in English speaking countries especially USA.
My courage and strategy of applying internationally grow and grow since 2009 up to now I need to study economics, bachelors degree of Art in economics in USA, in any university so that when I start complete I will start working: pay back to old people unknown and known, i must help orphans inspire them, teach them how to be kind hospitable, motivate them to faith and believing in god so that they must be real boys and girls fearing god and compete in globalised world.
REQUEST
On my request all I need people of god is 100% scholarship and air ticket to come that side [USA] and study Economics in my 4year program.
Am lead immediately to come and here is my passport number ZN169244

Finally here is my contact email: michealdaniels160yahoo.com
And contact numbers +27720638635 and +260968207050
Your consideration shall be highly appreciated on earth and in heaven.

Yours faithfully
Micheal Banda

Bryanna Lindblom Says:
August 19th, 2013 at 11:51 am

Hi Micheal,

Thank you for your comment. If you would like to view more on this program and the aid they offer, you can do so here. If you would like to check out other scholarships available to international students, this page will be helpful.

Good luck!
Leave a Reply