Posted on April 8th, 2013 by Bryanna Davis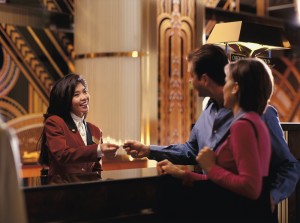 For many international students a hospitality internship in the US is a fun way to gain educational experience and live someplace exciting. Most state tourism destinations are not only fun to visit, but great to live in as well. Take Florida for example, there are many internship programs available in the Sunshine State for international students since there are a number of resorts and theme parks located there. The Walt Disney World International Program is an international internship program that is sponsored by The Walt Disney Company located at the Walt Disney World Resort in Lake Buena Vista, Florida. Individuals who participate in this internship receive a year-long cultural exchange experience with paid positions and a summer-long paid internship working at the resort.
If you prefer living at the beach you could always intern at one of the hundreds of hotels and resorts located along the coast. Hotel and resort companies like the Hilton Hotels Corporation, Marriott International Inc., Global Hyatt Corporation, and Starwood Hotels & Resorts Worldwide are some of the highest ranked hospitality chains in the world and are good to consider when applying for a tourism internship in the US. All of these companies are based in the US and offer various internship programs to students.
The Hilton Hotel Corporation for example, offers undergraduate and graduate students internships at several of their resort locations. The summer program in the US is a full-time, 10-week program that begins in early June and ends in mid-August. The majority of corporate internship positions are at the Hilton's global headquarters in Virginia, but the opportunity to find a tourism internship in the US can be found throughout the country. Interns can work in departments such as human resources, accounting, finance, marketing, development, design, corporate responsibility, communications, and legal.
Typically, international students can visit the "CAREER" section of a company's website to see what internships are available within the company. Florida is just one out of the 50 states that offers exciting and fun internships. Decide what state you would like to intern in and start looking!
*Female receptionist giving roomkey to couple photo courtesy of Shutterstock
No Responses to "Tourism Internship in the US"
Leave a Reply