Posted on October 4th, 2012 by Jenny Frankel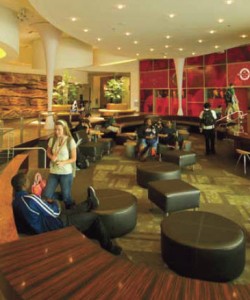 People are like snowflakes – no two are exactly alike. Each of us is interested in different things and passionate about different disciplines. Even the most ardent English student is interested in more than just English but so many English Immersion Programs are cookie-cutter creations that put their focus too squarely on the language itself.
Fortunately Full Sail University knows that there is so much more to life than that. Indeed, Full Sail University's ESL program is so much more than "just another English Immersion Program" because it capitalizes on Full Sail's unique strengths as a magnet for innovation in the entertainment and media industries as well as its proficiency in English language education by incorporating the creative arts into its language learning program.
Of course Full Sail University's ESL program has everything English students need to improve their reading, writing, listening, and speaking skills. At the same time, Full Sail University's English as a Second Language certificate program plays to the university's inherent strengths as a school for the creative arts.
Thus, English language skills are not exercised for their own sake but instead reinforced in a creative arts environment. In so doing students can not only improve their English but also apply it to real world activities. Over the course of six months their 12 unit certification program gives student the opportunity to improve by engaging in creative tasks that relate to the entertainment industry.
Students, for example, work on polishing their writing skills through creative projects like blogging, scriptwriting, and even songwriting. Likewise, students can polish their accents through activities such as plays and radio shows and improve their listening skills using a wide range of industry-specific media. In the end, because Full Sail University's ESL program speaks to the multifaceted learner in all of us, students can rest assured that it is great preparation not only for the TOEFL but also for a career in the creative arts.
One Response to "Full Sail's ESL program"
Unique King Says:
October 14th, 2012 at 12:54 pm

I am very interested in this University, not onlu because it is so close but it has exactly what I love and that is creative writing along with the ties of film. I write any from poetry, books, and short stories and hopefully broaden my horizon to produce movies and write movies. This school fots what I love and thats what makes me so excited to attend.
Leave a Reply