Posted on September 27th, 2012 by Jenny Frankel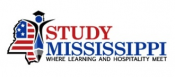 If you are an international student interested in studying in Mississippi, you may be curious as to what is StudyMississippi. From Blue Mountain College in the north to the University of Southern Mississippi in the south, the StudyMississippi consortium of school covers the geographical and educational spectrum of the great state of Mississippi. This collection of accredited institutions has banded together in order to attract international students to the heart of America's deep south. In any one of the sixteen member schools, international students will find a high quality education accompanied by the charms of studying in the Magnolia State. Mississippi holds within its borders a grand diversity of educational opportunities. And since it's lesser known than some other educational hotbeds of America, Mississippi's schools offer immense value.
The StudyMississippi consortium features large schools like the University of Mississippi (known as Ole Miss) and Mississippi State University, each of which enroll over 20,000 students, and small schools such as Tougaloo College and Blue Mountain College, which have approximately 900 and 550 students respectively. The consortium also includes members of the Historical Black Colleges and Universities (HBCU), such as Jackson State University and Mississippi Valley State University. Some member schools are religiously affiliated institutions. For example, Millsaps College is associated with the United Methodist Church and William Carey University receives support from the Mississippi Baptist Convention. Finally, StudyMississippi also contains two pre-college schools: The Piney Woods School and St. Andrews Episcopal School.
In addition to providing important information about these diverse educational opportunities in Mississippi, StudyMississippi offers relevant news about member schools and incredibly useful articles on the experience of studying in Mississippi. Interested in unique programs? Curious about how other international students have thrived in Mississippi? Want to dive in to the sports culture of the southern US? Information on all of these (and more!) is available is available through StudyMississippi. Let them be your guide to getting the most value out of your education and your overall experience in the Mississippi delta region.
3 Responses to "What is StudyMississippi?"
Aaron L.Grimes Says:
September 27th, 2012 at 1:18 pm

Greetings Sir,
I am Aaron L.Grimes a Liberian,would love to study at any of the Universities within Mississippi Christian Leadership,especially with a scholarship.

Hope to hearing from you soon.
Its Aaron L.Grimes

jeremiah obed Says:
September 28th, 2012 at 12:25 pm

greetings sir,
i am jeremiah.O.obed a Nigerian, i would like to study at any university over there especially with a scholarship. but dont know how to apply.
hope to here from you
Thank you.

OLUWAGBEMIGA OLUSOLA Says:
October 7th, 2012 at 10:00 am

i am oshin olusola.I am a Nigerian who wish to study in your country ,pls update me on the mode of application and if possible scholarship opportunity .looking forward to hearing from you.
Leave a Reply