Posted on June 9th, 2012 by Apinant Hoontrakul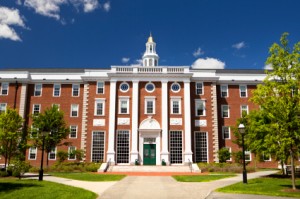 According to the U.S. News ranking of colleges, the top 10 national universities in the United States are not a surprise to many people and includes world famous universities.  International students who are looking to attend the most prestigious schools, here are the top 10 U.S. universities in 2012 according to U.S. News.
These top 10 U.S. universities listed consist of private institutions with tuition fees that are very expensive for students whether they are from the US or other countries. International students on a budget wanting to attend schools that are located in a more expensive urban setting, will also want to take in consideration the cost of living.
While these universities provide an excellent education, international students should consider which university will provide the most value after graduation and also fit their needs in terms of cost, the type of degree the student is seeking, location, diversity, etc. Many high quality colleges and universities are available in the United States; visit our U.S. School Search page to find the one that is right for you.
3 Responses to "Top 10 U.S. Universities in 2012"
Roatha Thy Says:
June 15th, 2012 at 8:53 am

Dear Sir/Madam,

I would like to tell about my obstacle of getting US student Visa in Phnom Penh Embassy, during my parents can provide me to go on my knowledge. I feel very depression in my life.

Regard,

Bryanna Lindblom Says:
June 29th, 2012 at 12:04 pm

Hi Roatha,

Thank you for your comment. I'm sorry to hear that your visa has you feeling down. You might want to look here for tips regarding your visa and immigration. Best of luck!

Titus Says:
July 2nd, 2012 at 4:10 pm

Looking for a freelance writer? Just E-mail me for quality papers (sutit83@yahoo.com)
Leave a Reply