Posted on November 19th, 2007 by Jennifer Frankel
As we approach one of the major US holidays, some would say a holiday that is bigger than Christmas for many Americans, I thought a posting explaining Thanksgiving and what its all about would help many international students understand the tradition and why it is celebrated.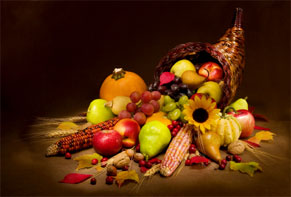 Typically thanksgiving is celebrated on the fourth Thursday in November, and this year it falls on the 22nd November. The day marks the start of a long weekend for many Americans as Thursday and Friday are usually days off work, so many have a 4 day weekend.
General public perception is that the roots of thanksgiving lay back in 1621. After the Pilgrims landed at Plymouth in 1620, their first year was a disaster and many of them died. However with the help of the local native Americans their crop in 1621 was a bountiful one. To celebrate this crop they held a feast with the native Americans to give thanks. These events are traditionally known as the roots of Thanksgiving, however the feast was actually in keeping with a long tradition of celebrating the harvest and giving thanks for a successful bounty of crops.
Today, Thanksgiving is a time for families to get together with each other and have a large meal. Typical items on the menu will be roast turkey and pumpkin pie. It is also a time of major travel – and airports, freeways and trains will be booked full of people trying to get home in time for Thursday.
If you are a student experience Thanksgiving for the first time post a comment about your experiences!
3 Responses to "Thanksgiving – What's it all about?"
Black Friday in the US « The International Student Blog Says:
November 23rd, 2011 at 3:02 pm

[…] Friday happens every year on the fourth Friday in November, the day after Thanksgiving Day. Even though it is not an official holiday, many people will have the day off due to Thanksgiving. […]

web design exeter Says:
February 17th, 2021 at 1:58 pm

Hi there to every body, it's my first pay a quick visit of this blog; thius webpaghe carries remarkable and really good stuff for readers.

Connor Blay Says:
March 5th, 2021 at 10:37 am

Hi there! Thank you for reading our blog we're so glad to see that you like it! 🙂
Leave a Reply