Posted on July 11th, 2014 by Bryanna Davis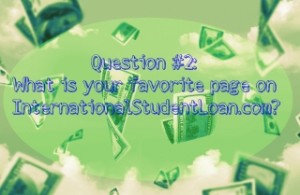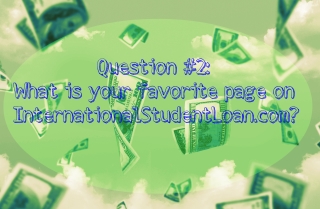 It's time to announce the second question in the Financial Aid Fun contest! During the first three weeks of July we have joined forces with InternationalStudentLoan.com to bring you one contest- that has three chances to win $100! If you missed your first chance to enter to win, don't worry, you have two more chances! It's now time to answer question two to win $100!
The second question is:
"What is your favorite page on InternationalStudentLoan.com?"
This means you will want to check out InternationalStudentLoan.com, surf around to see what page you like best, then let us know! Simply comment below and include your favorite link, or tell us through International Student Facebook, International Student Twitter, International Student Loan Facebook or International Student Loan Twitter.
You have until July 16th at 3pm EST to tell us what your favorite page is. Each individual who submits their favorite page will be selected through a random drawing. One lucky winner will receive a $100 Amazon gift card. The winner will be announced.
*Winner update:
The contest for the second question is now closed and we have a winner! Sunshine Darling is our second question winner! Sunshine picked the Making a Repayment Plan- and Sticking to it page as her favorite page on InternationalStudentLoan.com. Congratulations Sunshine!
Leave a Reply